At Rand Center for Dentistry, we understand the importance of managing pain and discomfort in our patients during post-surgical recovery after oral procedures such as tooth extraction or gum disease treatment. As responsible healthcare providers, we want to limit the use of prescription pain medications such as opioids. This is why we have incorporated StellaLife VEGA Oral Care - Natural Oral Pain Management products into our practice.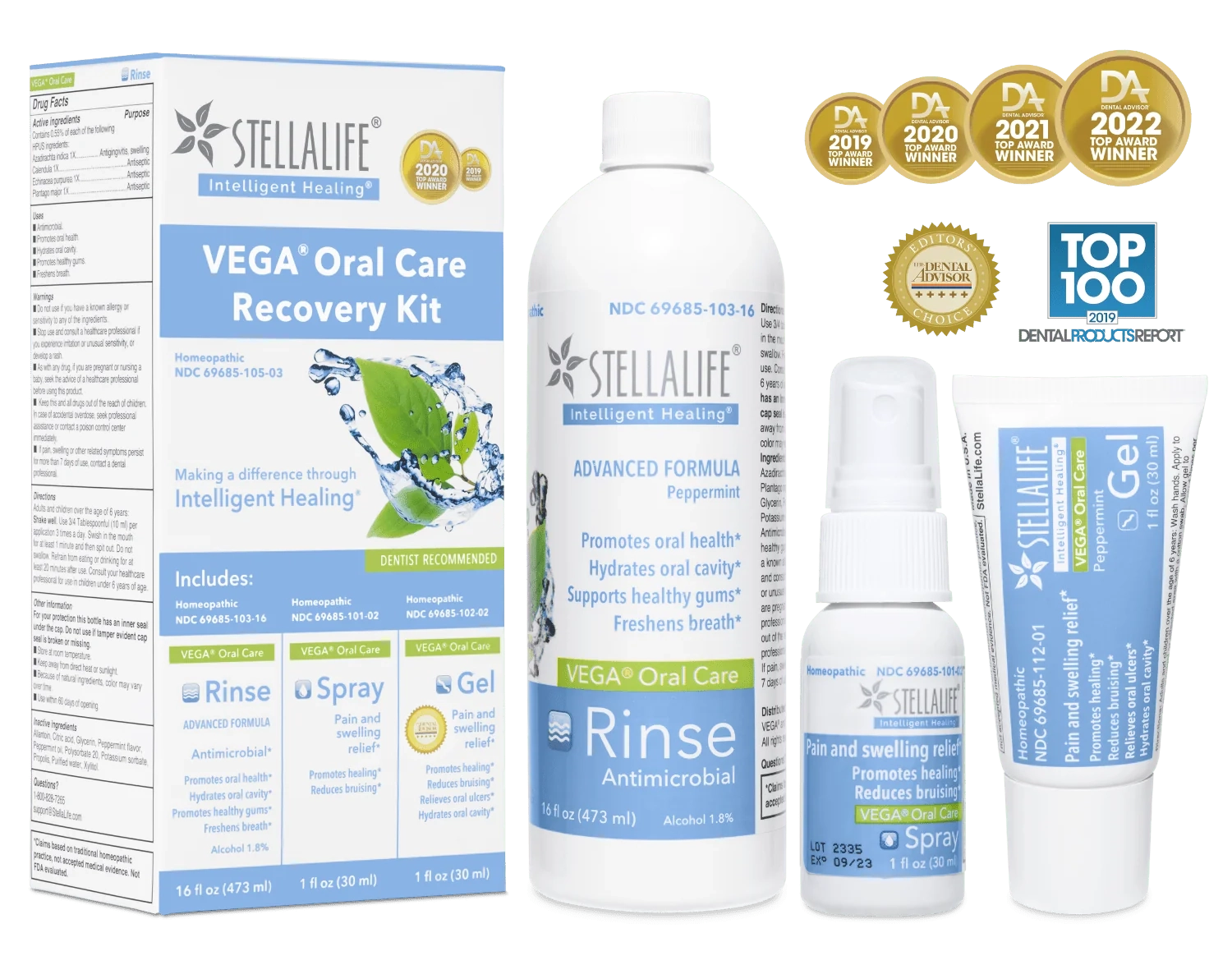 What Is StellaLife VEGA Oral Care?
The StellaLife VEGA Oral Care Recovery Kit offers an all-natural alternative for pre and post-surgical treatment with oral surgeries that have been clinically proven to accelerate healing while reducing pain. The kit includes an antimicrobial rinse, sublingual/systemic spray, and topical gel that work together synergistically to promote natural healing without any side effects associated with traditional prescription drugs like opioids or antibiotics. We are proud to offer our patients a safe and effective option for managing their oral pain without resorting to potentially addictive man-made chemicals by using "StellaLife® VEGA® Oral Care - Natural Oral Pain Management."
Why Use StellaLife VEGA Oral Care Product?>
Using the StellaLife VEGA Oral Care product is a wise decision for anyone seeking a natural and effective solution to dental pain relief, as this homeopathic product is designed to accelerate recovery after treatments while reducing the need for prescription pain medication. The absence of opioids or any other prescription pain medication in this product line makes it an ideal choice for those who wish to take charge of their recovery without relying on conventional medicine. As a result, you can be more proactive and enjoy an alternative that supports your overall health and well-being. Additionally, eliminating strong pain medication with numerous unwanted side effects is reason enough to recommend this approach. With its professional strength formula, dentists and hygienists highly recommend using StellaLife VEGA Oral Care products for adults and children over 6 years old. Applying it 3-4 times per day after meals helps keep your mouth healthy while avoiding drinking or eating anything for at least 20 minutes following treatment ensures optimal results.
Benefits
The StellaLife Recovery Kit provides many benefits, including the following:
Accelerates healing.
All-natural formula (homeopathic).
Easy to use.
Significantly relieves pain, swelling, and bruising.
Relieves oral ulcers, dry mouth, cold sores, dry sockets, denture irritation, and mucositis.
Temporary relief of dry mouth and ulcers caused by mucositis, chronic inflammatory and autoimmune conditions of the oral cavity, daily medication, chemo, and radiation treatments.
Helps maintain oral health and wellness.
Hydrates the oral cavity.
Promotes healthy gums.
Freshens breath.
It can be used long-term.
Who Are A Candidate For StellaLife VEGA Oral Care Products?
Our practice's commitment to providing cutting-edge treatment options is evident in our introduction of the StellaLife Recovery Kit. This innovative kit offers a minimally-invasive approach to dental procedures, with natural solutions aimed at reducing pain and accelerating recovery time. As an advocate for patient comfort and satisfaction, we continually adopt new methods to improve the overall treatment experience.
The StellaLife VEGA Oral Care Products are designed for adults and children over 6 years old who have undergone various dental procedures such as wisdom tooth extraction, dental implants placement, bone grafting, osseous surgery, connective tissue grafting (gum surgery), among others that often cause residual pain after the procedure. With this product line in place, patients can rest assured knowing they have access to a safe and effective solution for their oral care needs.
Have questions? Call Rand Center for Dentistry at (973) 370-8917 and schedule a consultation with one of our dentists.